2022 marks the 40th anniversary of the Moroccan-American Commission for Educational and Cultural Exchange. Throughout these 40 years, MACECE has succeeded in fostering mutual understanding between the peoples of Morocco and the United States.
MACECE will be celebrating the 40th anniversary with various activities throughout the year to highlight the importance of the Commission's work and the impact of the Fulbright programs.
40th Anniversary Webinars
Multilingualism in Morocco: How Moroccans associate their identity to their language
Multilingualism has always been a special part of Moroccan identity. To discuss the nuances of this interesting issue, we hosted a webinar with Fulbright Scholars Dr. Julie Dell-Jones and Dr. Carole Edwards; and Fulbright alumnus and Linguistics specialist Dr. Karim Bensoukas moderated the discussion. Click here to watch the full webinar.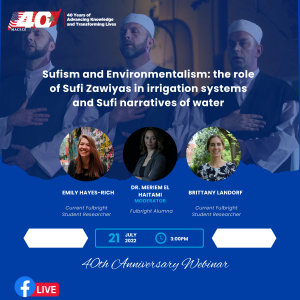 Where There Is Sufism, There Is Water: Insights of Collaborative Research
Sufism has always been a tenet of Moroccan spiritualism and water preservation is now a top priority for the country, but have you ever wondered how these two worlds might be connected? On this webinar, we discussed Sufism, water and the fascinating ways they intersect. Click here to watch the full webinar.
Soft power and geopolitical stability: The new era of Moroccan Diplomacy
The recent years have been pivotal for Moroccan diplomacy, and have resulted in many agreements between our Kingdom and its fellow sovereign countries. This webinar discusses this new era of Moroccan Diplomacy and its importance to geopolitical stability. Click here to watch the full webinar.